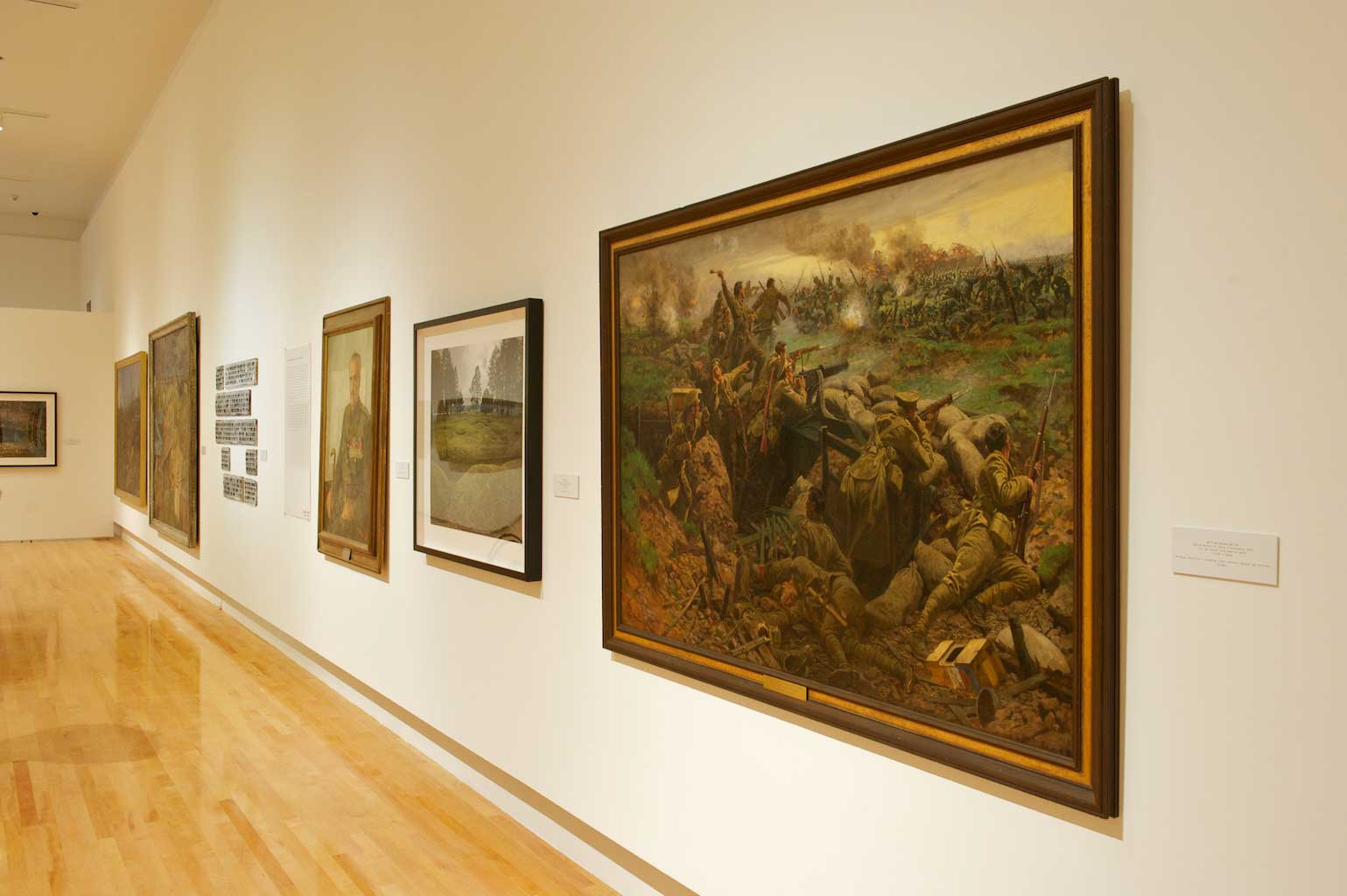 Forging a Nation: Canada Goes to War
January 22, 2014 – April 7, 2014
Exhibition Details
2014 marks the centennial of the start of the First World War and is also the 100th anniversary of the formation of many of the regiments that were mobilized for this conflict.
Canadians' individual and collective contributions and sacrifices to this war changed Canadian history and continue to shape notions of Canadian national identity to this day. Despite Canada's contributions in tandem with allied countries, it was not until after the collective traumas of the First World War that any notions of nationalism were felt at all.
In the vast and diverse country that is Canada, there is little that ties Canadians together beyond collective war efforts, uniting those on the home front, both in support as well as opposition. Artists have been an important part of the Canadian Military and many of Canada's best-known historical artists were on the front lines depicting the key events of the First World War.
Forging A Nation: Canada Goes to War depicts the remarkable events of this war and the following 100 years of violent conflict as captured by military, civilian, Canadian, and foreign artists. These artists portray the experiences of ordinary Canadians who endured the extraordinary.
Artists in the exhibit include:
Dick Averns
John William BeattycWilliam Bewick
Isla Burns
Bertrand Carrière
John de Chastelain
Alex Colville
Charles Comfort
Maurice Cullen
Orville Fisher
Kenneth Forbes
Colin Gill
John Heartfield
Gershon Iskowitz
A.Y. Jackson
Franz Johnson
Gertrude Kearns
T.R. MacDonald
Jack MacLaren
Pegi Nicol MacLeod
William MacDonnell
Allan Harding Mackay
David B. Milne
Paul Nash
W.A. Ogilvie
Charles Oppenheimer
R. Mae Pey
Albert Richards
Paul Seguna
Inglis Sheldon-Williams
Tony Scherman
Gordon Appelbe Smith
Michael Smith
SMSteele
Katherine Taylor
Peter von Tiesenhausen
Frederick Varley
Robert Venor
Scott Waters
Robin Watt
William Wessel
William Barnes Wollen
Ted Zuber

<!- View not found ->