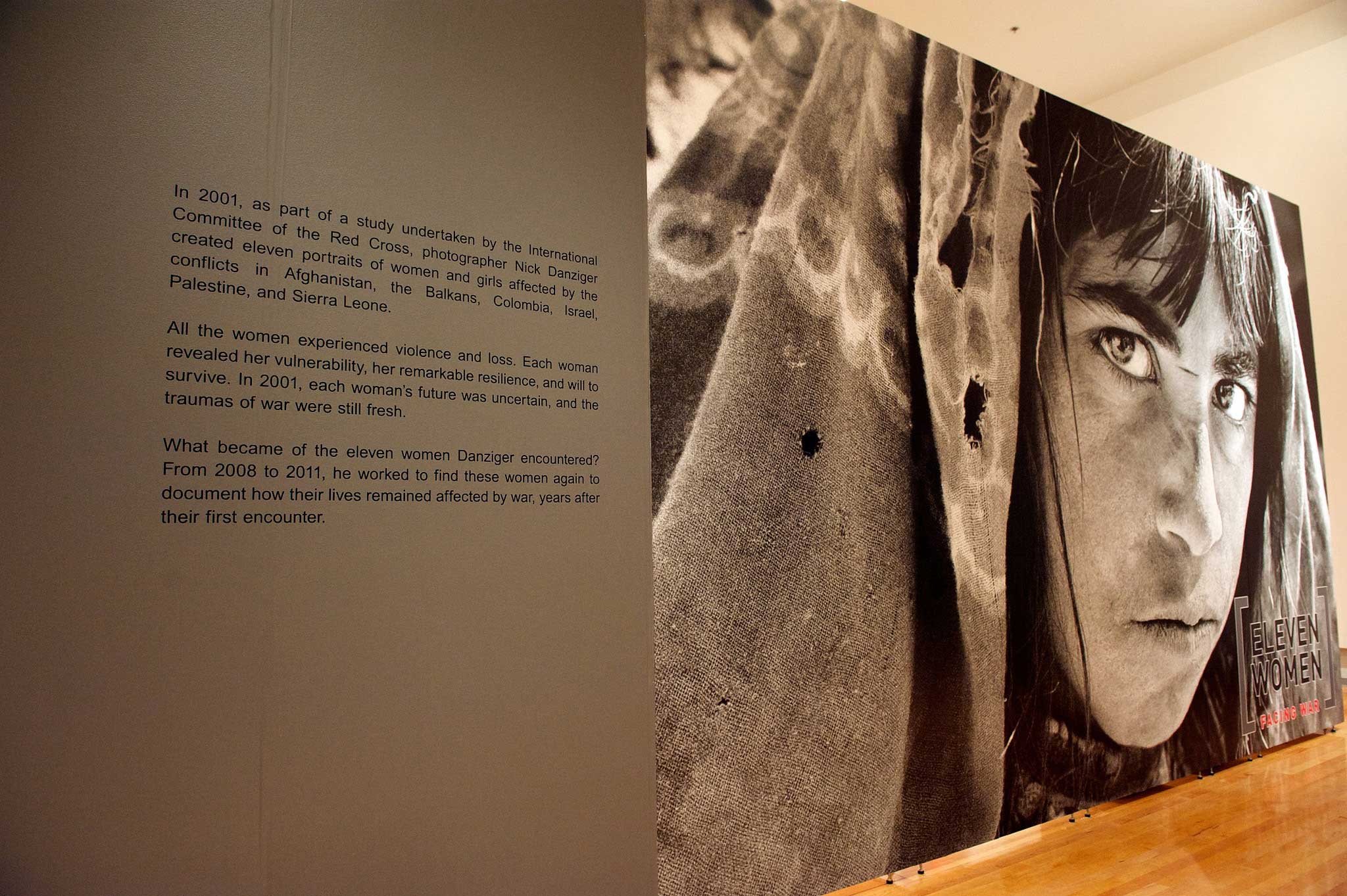 Eleven Women Facing War
August 8, 2013 – December 2, 2013
Exhibition Details
Eleven Women Facing War tells eleven stories of women from Afghanistan, Sierra Leone, Colombia, the Balkans, Israel and the Palestinian territories. Internationally renowned photographer Nick Danziger initially photographed these women in conflict zones for an International Committee of the Red Cross study in 2001. Ten years later, he set out to find each one to learn what had become of their lives.
Their names are: Olja, Mariatu, Dzidza, Amanda, Efrat, Nasrin, Qualam, Sarah, Shinaz, Zakiya, and Mah-Bibi. Their stories are captured in Eleven Women Facing War, a series of photographs and powerful first-person accounts captured by celebrated photojournalist Nick Danziger.
In 2001, while working for the International Committee of the Red Cross, Danziger travelled to Afghanistan, the Balkans, Israel, the Palestinian Territories, Sierra Leone, and Colombia to document the stories of 11 women and girls affected by war. All had survived violence and profound loss; their accounts revealed vulnerability, and a remarkable will to survive. Their futures were uncertain, and the traumas of war were still fresh.
What became of these 11 women? From 2008 to 2011, Danziger set out to find each of the women, to learn how their lives had changed, ten years after their first encounter. Incredibly, Danziger found all but one of the women. They all provided him with updates about their lives and their continuing struggles.
Dzidza
Dzidza is searching for her husband and sons, still missing long after the war is over.
Efrat
Efrat and her family anxiously await news of her missing brother, a soldier captured in hostilities.
Amanda
Amanda, detained for her role in armed conflict, talks of her daily life.
Sarah
Sarah, a survivor of sexual violence, recounts her story.
Shihnaz
Shihnaz lives with the daily fear of threats to her personal safety.
Nasrin
Nasrin, a widow and mother, explains how medical care has helped her regain mobility after a mine accident.
Mariatu
Mariatu copes with disability; the result of a physical attack on her during war.
Mah-Bibi
Mah-Bibi at ten years old is destitute and begs for food to support herself and her younger brothers.
Olja
Olja describes her feelings on learning finally of her missing husband's death.
Zakiya
Zakiya supports herself and her children in the absence of her detained husband.
Qualam
Qualam, forced from her home by drought and conflict, describes what it is like to be displaced.

<!- View not found ->